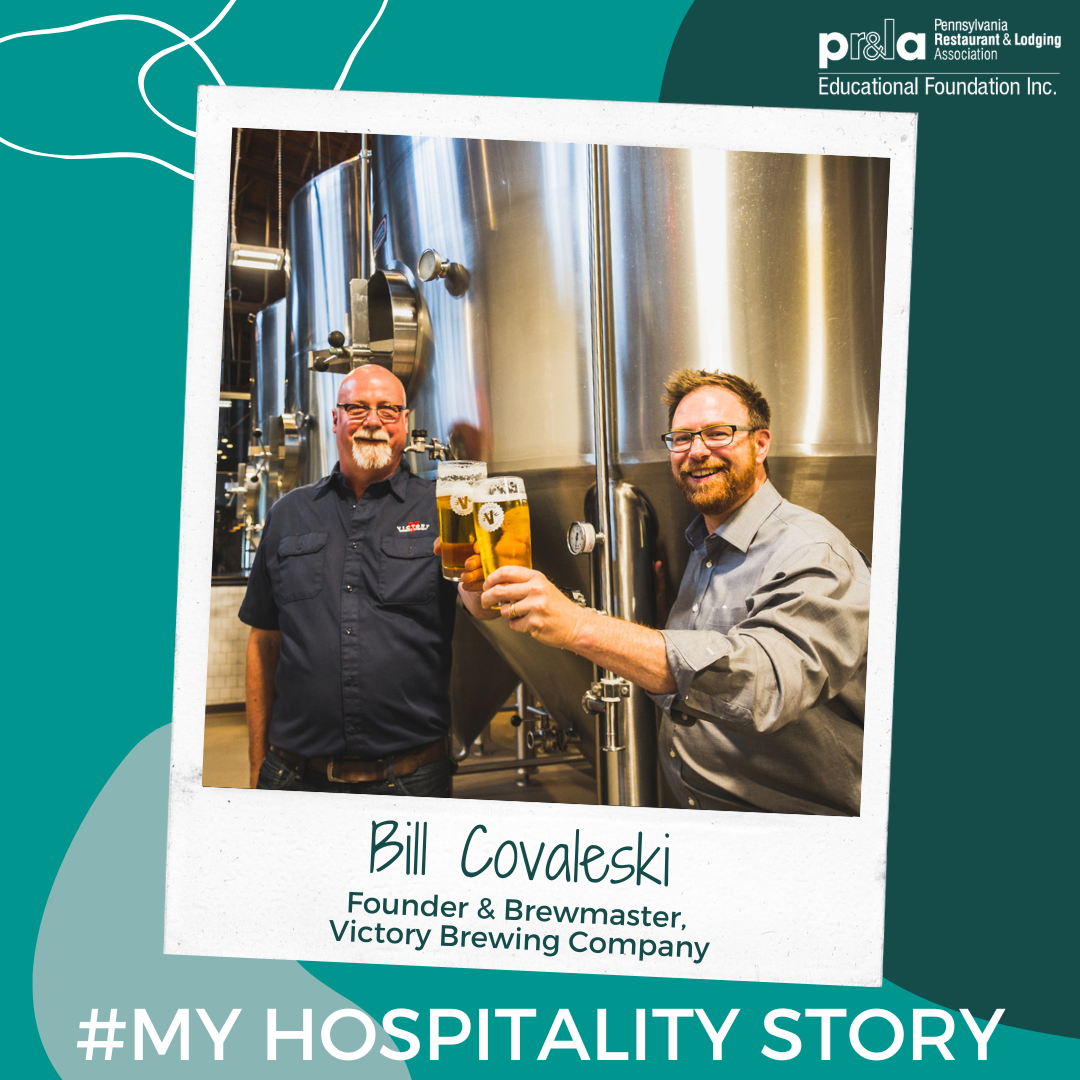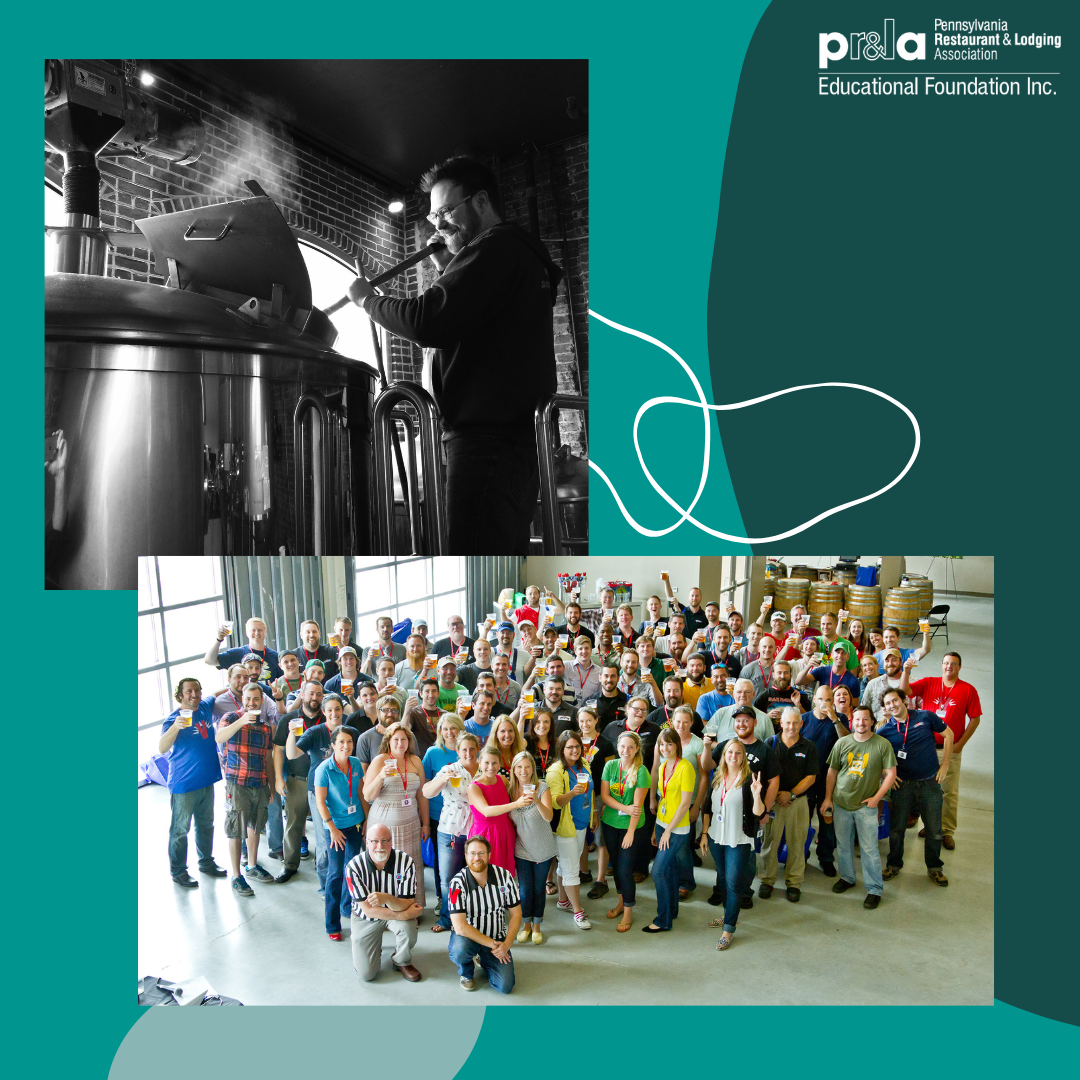 Briefly describe your job and responsibilities.
As one of two founders, my job is to empower our team members so that they can do their best work, and derive great satisfaction from the process. This means that my chief responsibilities are to analyze results and monitor the allocation of resources towards achieving optimal performance.
What does a "typical" day at work look like for you?
The activities that make up my 'typical' day have evolved dramatically over my 26 years at Victory, yet the principles that guide my activities have remained consistent. As you might expect my days were entirely 'hands on' with brewhouse shifts, sales calls, delivery duties, etc. through the first decade of Victory. Over time, our growth required both founders to move to much more executive roles, while building out very capable teams to execute the duties that were once ours.
What has been consistent through this entire experience is that there is no 'normal' day. Yes, there are the priority tasks I must execute each day, but the needs of our business and our team are constantly shifting. If you think of my role as a steward of our business, you'll understand that I must always be alert and responsive to indications that we may need to focus more attention and resources in a new direction. Every day I must maintain a sincere interest in learning what we are doing right and accepting what we could do better and maintain the willingness to adapt our organization around those opportunities.
What was your first job?
As a brewery and taproom owner. Seriously.
Though my first brewing job was at a Baltimore brewpub, I was the one and only full-time brewer. I marveled at the energy and skills of my colleagues in the front of the house as well as the kitchen. I learned valuable lessons from them.
Perhaps the most important thing they taught me shaped our business model at Victory Brewing Company. As German-trained brewers, Ron and I initially planned to just produce beer for distribution, and not operate as a brewpub or taproom. We learned that wholesale channels were too underdeveloped for the beers we envisioned as we worked through our business plan. We made a bold pivot to include a 144-seat taproom in our operation with a from scratch menu built around wood-fired pizza. We were placing a huge amount of faith (and risk) into the hands of a hospitality team that we'd have to build and empower for success. We had confidence in this plan because we had witnessed, firsthand, how a well-resourced and motivated hospitality team can develop loyal customers to champion a new brand. Essentially, 90% of our thin marketing budget was redirected to our facility and our team so that the brand experience we could deliver to first time guests would win them over. It worked.
It amazes me to think that Victory Brewing, now with our partners of Southern Tier Brewing Co., Sixpoint Brewery, Bold Rock Ciders and Southern Tier Distilling Co., sits in the #6 position for all US craft breweries, and that all of this success was initiated by a passionate hospitality team back in 1996 in Downingtown, PA.
When did you know this industry was right for you?
Before we swung our doors open in February 1996 I sensed that the energy of the hospitality team we were forming was a vital resource that I'd be honored to guide, support and foster.
Briefly describe your career path and how you got to where you are today.
My first job was baling hay at a local farm at 14 years of age.
With a Bachelor of Fine Arts degree from Temple University's Tyler School of Art, I landed a job as a graphic designer and moved up upward to an art director position concentrating in packaging design. All during those 5 years I was brewing beer at home, based on a passion my father had instilled in me when he first tapped me as his apprentice for his initial brews in 1979.
In July of 1990 I took over my buddy Ron's job as brewer at Baltimore Brewing Company as he departed to study brewing in Germany. Baltimore Brewing was started by a German trained Dutch brewmaster from the Grolsch Brewery family, so I had a wealth of knowledge and experience afforded to me in that job. In 1993 I completed a study course at the Doemens Institute in Munich region. Ron and I began writing our business plan in January 1994 and, amazingly, opened Victory Brewing in Downingtown in February of 1996.
What is your favorite part of your job?
My favorite part of my work is being involved in the guest experience. We write innovative beer recipes with the aim of giving a customer a new, memorable experience. We plan and program our hospitality to deliver both comfort and some excitement to our guests. What I never grow tired of is witnessing our guest's reaction and response. It is what we all work for, to delight them.
What is the most challenging part of your job?
Victory has many departments with unique capabilities and needs. It is always a challenge in developing annual budgets and plans to assure that all departments are resourced properly.
What advice would you give to students interested in your profession?
What is my profession?
Am I brewer? Am I a creative hospitality host? Or am I simply an entrepreneur?
My advice lies in this conundrum. Consume all knowledge of the things that you are passionate about. Be well versed and capable at a number of things. Life's opportunities are seldom linear, and setbacks happen randomly. You must always be prepared to adapt and step up with a solution when things take a wrong turn. Problem solving is a lifelong process and your ability to do so in real time will be rewarded in your career.
What achievement are you most proud of?
In 2018 Victory Brewing was honored with the Clayton M. Hoff Award by the Brandywine Valley Association (BVA). This award was established in 1987 to honor the memory of Clayton Hoff, first executive vice president of BVA and the man generally acknowledged to be the founder of the small watershed movement in America. The award is presented to a person, public or private organization, or company active in the Brandywine or Red Clay Valleys and recognizes long term contributions to the conservation of the valleys' resources, which have been a model for others to follow and have helped to promote conservation in the Brandywine and Red Clay watersheds.
It was a great honor because it was a team win. The stewardship efforts we were recognized for may have been initially put forward by Ron and I, but were entirely embraced and actualized by our dedicated team. In bestowing the award we were cited for reducing our carbon footprint and conserving natural resources through the recycling and repurposing of existing buildings, the installation of energy conservation equipment, a recycling and waste minimization program, and the application of solar power on top, of the charitable Headwaters Grant we established to fund watershed stewardship initiatives locally and countless stream cleanings and tree plantings we participated in.
What do you like to do outside of work?
I'm drawn to the outdoors. Cycling and hiking are how I can afford the delicious beer calories I enjoy consuming and are activities that open channels of free, creative thinking in my mind.
Therefore, I'm also an avid gardener enjoying the industrious hours spent tending to trees, plants, and surroundings. For me there is fulfillment in working with Mother Nature to beautify my surroundings and learn what control she will, and will not, permit me.
What is your favorite food to make or eat?
My wife is an outstanding cook and as an engineer she can rapidly perfect almost any dish we encounter while dining out. I tend to be more of a 'high risk, high reward' cook, so our daughters wisely trust me less than they trust her. What I am the undisputed master of at my home is the Big Green Egg smoker and I've yet to fail at beef brisket and pastrami.
​
What's at the top of your bucket list?
Mine is a deep bucket of future travel destinations. That said, hiking the Dolomites in Italy is on our schedule for September, as well as first visits to Florence and Venice. I am thinking that the white wines, cured meats and alpine cheeses of the Dolomites might be a glimpse of my version of heaven. Fingers crossed!​