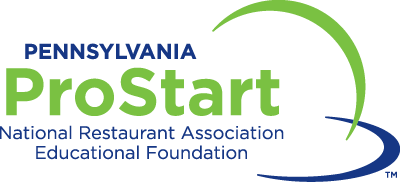 Industry Member Resources
Choose to be a key player in the future of this industry, where you can inspire young people, offer avenues for advancement and tell the world about the endless opportunities available in the restaurant industry.
How can I become involved with the Pennsylvania ProStart Program?
Are you a culinary or hospitality industry professional in Pennsylvania? We are always looking for chefs, restaurant or food-service business owners, managers, vendors, and others in the industry members to get involved with ProStart®. There are many ways to help:
Mentor
As a ProStart mentor, you will provide support, coaching, and encouragement for students as well as assist ProStart educators in developing students' professional skills. The time commitment can vary based on your availability and the needs of the school. Mentoring activities can include:
Host a Field Trip
Guest Speaking in a ProStart Classroom
Facility Tour
Create an Internship
Competition Mentor Click to learn more
Sponsor
By supporting the ProStart program, you are investing in the future of our industry! Sponsor our program and events to connect with future leaders of the restaurant and food-service industry who are your future employees or consumers of your products.
Choose a general program support package, or sponsor one of our events throughout the year, including:

 Pennsylvania ProStart Student Invitational (winter)
National ProStart Student Invitational (spring)
PA ProStart Teacher Trainings (2x/ year)
PRLAEF Scholarship Program
Volunteer
ProStart Competition: Serve as a culinary or management judge or volunteer at the PA ProStart Invitational. You will have the opportunity to help students grow and learn during a fun-filled day of culinary rivalry.
School OAC Member: Serve on your local school district's Occupational Advisory Committee (OAC). State mandated ​​OACs advise the school board, administration and staff on curriculum, equipment, instructional materials, safety requirements, program evaluation, and other related matters to verify that the programs meet industry standards.
Want to get involved with PA ProStart?
Fill out the interest form to get started.
Resources for Hospitality Businesses, Vendors, Sponsors, Students. Membership is for Everyone!