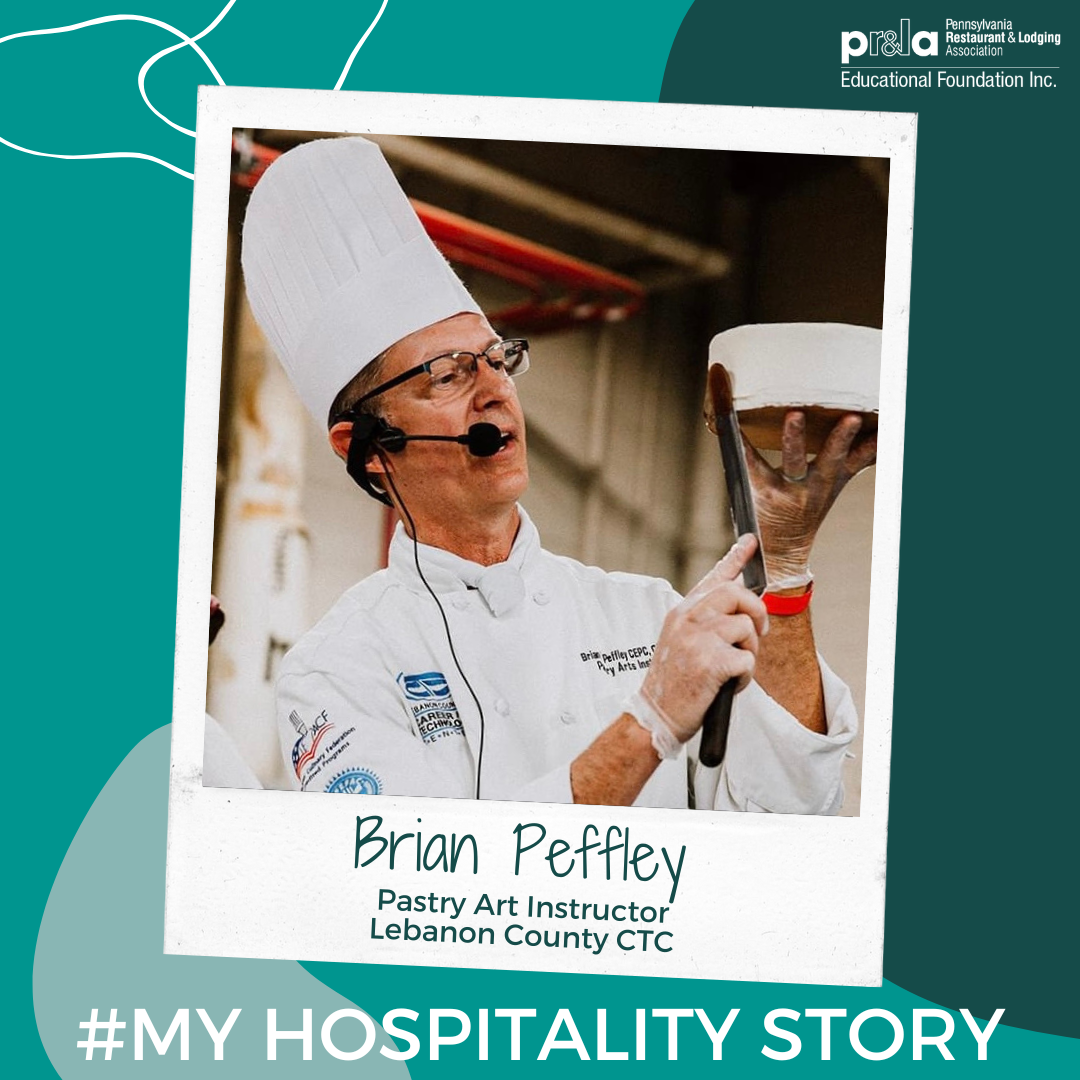 Brian Peffley CEPC CCE AAC
Briefly describe your job and responsibilities.
I teach a full day senior baking and pastry program that runs and operates a retail pastry shop and restaurant open to the public, offering our students a "real world" experience and hands-on training.
Our pastry program was the first secondary pastry program to be accredited by the ACF and also offers a pre- apprenticeship in culinary and pastry arts as well as a post-secondary DOL 4,000 hour apprenticeship program with the Hershey Entertainment and Resorts Company.
My responsibilities include teaching PA required competencies as well as the required knowledge and skill competencies for ACF. As the teacher my best description is "I am a facilitator of opportunities".
What does a "typical" day at work look like for you?
Our full day program starts at 8:05. We will be baking in the kitchen for 3-4 hours with 20 students making multiple products. Bread group will produce breads to sell that day as well as all bread that is required in the restaurant. Pastry Shoppe group will set up and run the retail pastry shop with a wide variety of more than 20-30 items. Dining room dessert block will set up the dessert buffet in the Hilltop Cafe. Afternoon we will clean the kitchens and plan out the duties for the next day.
What was your first job in the hospitality industry?
Dishwasher at the Quality Inn in Lebanon.
When did you know this industry was right for you?
Very young flashback of my grandmother and I baking when I was young. She taught me how to bake a pound cake with a cinnamon sugar topping. To this day when I smell cinnamon baking, I think of her.
Briefly describe your career path and how you got to where you are today.
Started as a student at Lebanon CTC for Culinary Arts. After graduating high school, went into the Hotel Hershey Culinary Apprenticeship for 3 years, started the Hotel Hershey Pastry Apprenticeship for 2 years. Worked in Florida and Arizona both at 5-star and 5-diamond resorts. Became Executive Pastry Chef at Hotel Hershey at 25 years old. Worked in a retail pastry shop for 2 years. Started teaching at Lebanon CTC for pastry arts. Received my teaching certificate from Penn State and earned my bachelor's degree from The International Culinary School at The Art Institute in Pittsburgh.
What is your favorite part of your job?
Sharing the craft I love to young students with the same love for baking.
What is the most challenging part of your job?
Enough time to cover all that our industry has to offer.
What advice would you give to students interested in your profession?
Surround yourself with a large network of talented chefs and never stop learning.
What achievement are you most proud of?
My marriage, my sons, and the countless successes of my students.
What do you like to do outside of work?
Garden, kayak, and travel.
What is your favorite food to make or eat?
Anything that I don't have to cook or clean up!
What's at the top of your bucket list?
Tour Europe and eat my way through each country.