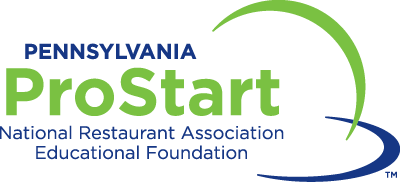 Your future in restaurants starts here.
Why do I need the ProStart Certificate of Achievement?
ProStart's National Certificate of Achievement (COA) is an industry-recognized certificate awarded to students who have completed the requirements of the ProStart program. Earning the COA can give students a leg up in employment search and opens the door to collegiate opportunities. Students must complete the program, pass two national exams and complete 400 hours of mentored work experience to earn the certificate.
Scholarships
Students who earn the ProStart COA are eligible to compete for scholarships at the state and national level.
In 2021, the PRLAEF awarded 14 scholarships totaling $28,000 to Pennsylvania students enrolled in a post-secondary culinary arts or hospitality management program.
The NRAEF awards over $1 million in foodservice-related scholarships each year.
College Credits
Over 60 of the country's leading hospitality and culinary arts colleges and universities offer course credits to students who have earned the ProStart COA. View the National ProStart Collegiate Passport to learn more about these benefits.
Industry Connections
Earning this industry-backed credential will show employers that you are serious about a career in the restaurant industry, which means better jobs with better pay. Plus, you'll have established connections with chefs and foodservice professionals here in Pennsylvania.
Pennsylvania ProStart students have access to FREE student membership with the Pennsylvania Restaurant & Lodging Association (PRLA).
Each year, the PRLA Educational Foundation (PRLAEF) awards thousands of dollars in scholarships to Pennsylvania students pursuing a post-secondary degree in the restaurant, foodservice, and hospitality industry.
he ProStart Passport is packed with information about post-secondary schools that offer college credit and/or scholarships to ProStart students who have earned the ProStart National Certificate of Achievement (COA).
Pennsylvania's hospitality industry is hiring! View the PRLA Job Board for career opportunities available across the state.
Resources for Hospitality Businesses, Vendors, Sponsors, Students. Membership is for Everyone!